If you grew in church or in a home where the Bible was taught you learned stories from both the Old and New Testaments that kept you spell-bound.  There are, however, a number of stories that we mostly "skip over" when we teach children.  In this study we will take on these accounts head on.  And we will learn valuable life lessons from our God.  Don't miss this study.
Series Preview
---
Sermons Can Be Fatal (Acts 20:7-13)
A sudden tragedy in the midst of a late-night church service can not keep these Christ-followers from the Word of God. Learn more in part one of "Stories you never heard in Sunday School"
---
The Plot to Kill a Man Who Already Died (John 12:9-11)
What can we learn from the story of Lazarus and what Jesus did?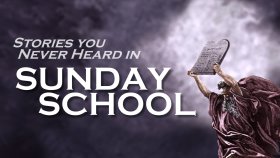 ---
A Stubborn Man and Six Million Frogs (Exodus 8:1-15)
In this study Pastor Waggoner delves into what happens when stubbornness gets the best of us and what we can do to avoid this trouble.
---
The Left Handed Assassin (Judges 3:12-30)
We learn and see how that God uses are weaknesses as well as our strengths.
---
The Shame of Noah (Gen. 9:20-29)
Pastor Waggoner shows through Noah that what we really need is not a fresh start, but a Savior.
Podcast
---
Tamar's Family Tree (Gen. 38:1-30)
Pastor Waggoner uncovers what God can do in spite of multiple layers of bad.
Podcast
---
 One Strange Battle (2 Kings 3)
Part seven of "Stories You Never Heard in Sunday School."
Podcast
---
Strange Fire (Lev. 10:1-20)
When God sends us moments of total clarity, what should we do with them?
---
You may also enjoy the companion Series
"Strange and Bizarre Stories from the Bible"