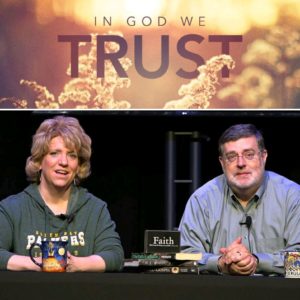 Begins Wednesday March 18th at 6:30 pm.
We see it on every coin and bill in our purses and wallets.  It is inscribed on our national monuments and we followers of Christ believe it.  But why is it so hard to accomplish?  In this interactive, online Bible study you will learn why, how and in whom to trust.  If you need a boost in your faith and confidence, then this is the study for you.  You can watch each session LIVE at Facebook LIVE or LiveNow.Calvarywv.com
In these challenging days why don't you invite others to join you or start a Watch Party on Facebook.  You will be able to submit your questions and share your comments with your host and Bible teacher.
Recorded episodes will be here after they are webcast.